How to adopt a cat
KEEP YOUR FRIEND HAPPY
29 October 2014 ·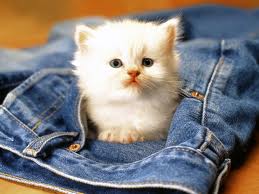 Do you want to adopt a cat? You made the right choice! Cats are fascinating and sensitive creatures, you just need to get to know them.
Today we give you 10 tips on how to keep your cat healthy and happy.
1) Like dogs, cats need to be fed well, with quality food, at least once a day.
2) Cats need to always have fresh, clean water.
3) Keep the cat in the house with you, but always separated from fish and birds (if you have them at home).
4) Remember to cut the cat's nails properly.
5) Cats do not need to leave the house, they just get used to using the litter box. Remember to keep it clean.
6) Buy your friend a collar with an identifier. In the event that your cat gets lost is always a good idea to have your name and address on a plate tied to the collar.
7) Unlike dogs, cats do not need to bathe. Cats keep themselves clean at all times.
8) It is very important to sterilize your 4-legged friend, so he can live a longer, healthier life.
9) Your cat should be able to get the best veterinary care possible.
10) Remember to spoil your cat. Although they are more independent of dogs, they need love!
Find a friend for life on Clasf
Related news