Sacrificial animals janwar
---
Top sales list sacrificial animals janwar

Pakistan
Farm bred Sahiwal breed 9 sacrificial cow bulls (dondas) for sale. The animals are well built and have been properly fed. The animals can be seen at farm located at -L tehsil Chichawatni, district Sahiwal. For all other enquiries please contact Nasir Ali at the below no. The price quoted is per animal
Rs 200.000
See product

Pakistan (All cities)
Hum apna Dairy setup shift ker rahey hain or Australian cow Farm bana rahey hain. is liye jo abhi key Janwar hain wo sale ker rahey hain (Mix breed ha) is waqat total 4 cows hain or 3 bachey hain. baqi tafseel video
Rs 1.400.000
See product
Pakistan (All cities)
I. A CATTLE FARM Qurbani animals available on reasonable rate BEAUTIFUL QURBANI BULLS IN KARACHI. BULLS AVAILABLE FOR SALE 1) LIVE WEIGHT = 480+ kg. MEAT WEIGHT = 380+ KG 2) LIVE WEIGHT = 450+ KG MEAT WEIGHT = 350+
Rs 320.000
See product
Pakistan (All cities)
20 animals of best breed sahiwal cow long legs very active and beautiful animal ready to make your qurbani marvellous. weight from 320kg-450kg available right now. will be alot more by eid.
Rs 200.000
See product

Rawalpindi (Punjab)
Golden opportunity to buy best sacrificial animals of town. All cattle are intentially prepared for eid. All best cattle breeds of pakistan are available under one roof such as NUKRA, BATELLA, DABBA, CHINNA etc. Come as soon as possible to grab these friendly and potent sacrificial gifts. Price ranging from 160000 to 300000. All are very reasonable due to their breeds, colour, beauty and weight ranging from 6-8 Mans. Being exhibited at heart of rawalpindi(1-2km from benazir hospital and 2-3 km from CDA stop) calls only Views: 670
See product

Pakistan
Brought up in Punjab, these are some pictures of the many sacrificial animals that we are selling, so contact immediately, price, well just look at the pictures, Rs. to Rs./-. so call now.
Rs 200.001
See product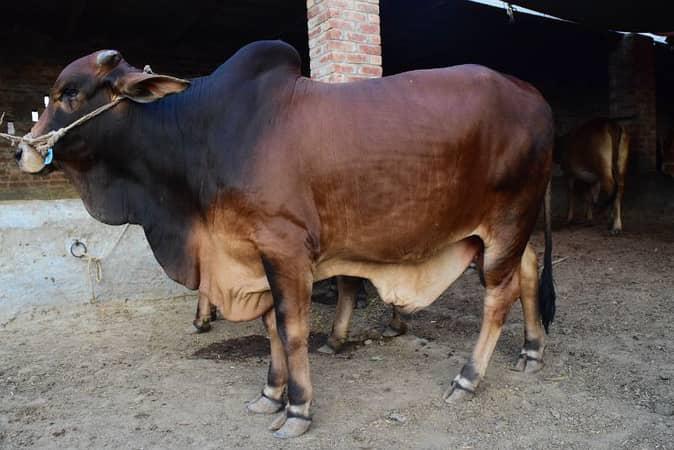 Pakistan (All cities)
Saadat Cattle farm is here! Book your sacrificial animals with us Free delivery in Lahore. Healthy and beautiful animals are also available at Saadat Cattle Farm. ! Interested people can also visit us on our cattle
Rs 130.000
See product

Pakistan
MashAllah sehatmand Qurbani k janwar dastiyaab han... InshAllah humari qeemat mandi k muqabley boht hi munasib hogi. Kisi bhi waqy call kar k janwar daikheyn.. shukriya.. MashAllah healthy cows are available for qurbani on Eid... InshAllah our price will be reasonable as compare to mandi... directly call us for looking these animals.. Thank you...
Rs 85.000
See product