EFI Auto car Electrician (theory+practical) Course in rawalpindi islamabad chakwal gujrat jhelum 3115193625 Auto car Electrician Course in rawalpindi pakistan chakwal jhelum gujrat 03115193625, World Wide Acceptable with UK/USA/Pak/U.A.E/KSA/China/ International Certifications in Rawalpindi,Islamabad, Efi Auto Course in rawalpindi pakistan chakwal jhelum gujrat 3115193625, Auto electrician in islamabad rawalpindi 3115193625 Admission open, We offers specialized and centralized fully equipped computer lab,various professional lecture rooms with multimedia for audio /video visual aid,Conference hall,hands-on supervisory experience in service and operations, Admission open for admission and queries call 3115193625, 3354176949 INTERNATIONAL COLLEGE OF TECHNICAL EDUCATION Pakistan No.1 IT Training Institute,For More Information Visit Our Website www.courses.com.pk, www.icollegete.com. Auto Electrician is there to service, maintain, check up, repair, and change electric and electronic devices and systems on the vehicle. A good and reliable auto electrician should know how to set up electric installations and network equipment on the cat based on the sketches; how to detect and remove installation and network equipment malfunctions, The Institute also incorporates introducing the students to the procedures and rules of connecting electric and electronic devices to the installations, as well as to differ the types and uses of the tools, and devices which build and set up the electric installation and network equipment. Apart from theoretical representation of these procedures, the students will also be trained to set up and connect electric and electronic devices on the installations, to check the regularity of the installations, and use the appropriate tools. The auto electrician course in ICTE offers you the chance to learn about terms such as ECU, and CPU, learn what system sensors are, and explain how they work (coolant fluid temperature sensor, air temperature and flow sensor). In ICTE you will learn what an encoder is, how it functions, what is Hall effect, what is a "Knock" sensor, and what is the purpose of the sensor for the car speed.
ICTE Auto Car Electrician Course Content:
Monitor Environmental And Sustainability Best Practice In The Automotive Mechanical Industry
Apply Safe Working Practices In An Automotive Workplace
Use And Maintain Automotive Electrical Test Equipment
Carry Out Soldering Of Electrical Wiring And Circuits
Demonstrate Knowledge Of Automotive Electrical Circuits And Wiring Systems
Install, Test And Repair Vehicle Lighting And Wiring Systems
Fabricate, Test And Repair Wiring Harnesses And Looms
Test And Repair Basic Electrical Circuits
Demonstrate Knowledge Of Petrol And Diesel Engine Operation
Diagnose And Repair Electronic Spark Ignition Engine Management Systems
Diagnose And Repair Electronic Compression Ignition Engine Management Systems
Test, Charge And Replace Batteries
Install Ancillary Electronic Control Unit Systems And Components
Diagnose And Repair Instruments And Warning Systems
Diagnose and repair charging systems
Diagnose And Repair Ignition Systems
Repair Electrical Systems
Service And Repair Electronic Body Management Systems
Service And Repair Electronic Drive Management Systems
Carry Out Diagnostic Procedures
Remove And Replace Supplementary Restraint Systems.
Rawalpindi, Islamabad, Lahore, Karachi, Gilgit, Skardu, Ghangche, taxila, Shigar, Astore, Diamer, Ghizer, Kharmang, Gultari, Rondo, Hunza Nagar, Gupi, Azad Jammu and Kashmir, Muzaffarabad, Mirpur, Bhimber, Kotli, Rawlakot, Bagh, Bahawalpur, Bhakkar, Chakwal, Chiniot, Dera Ghazi Khan, Faisalabad, Gujranwala, Gujrat, Hafizabad, Jhang, Jhelum, Kasur, Khanewal, Khushab, Layyah, Lodharan, Mandi-Bahuddin, Mianwali, Multan, Muzaffargarh, Nankana Sahib, Narowal, Okara, Pakpattan, Rahim Yar Khan, Rajanpur, Sahiwal, Sargodha, Sheikhupura, Sialkot, Toba tek Singh, Vehari, Attock, Taxila, Wah Cantt, Rawalpindi, Balochistan, Khyber-Pakhtunkhwa, Punjab, Sindh, Gilgit Baltistan, Turbat, Sibi, Chaman, Lasbela, Zhob, Gwadar, Nasiraba, Jaffarabad, Hub, Dera Murad Jamali, Dera Allah Yar, Khyber-Pakhtunkhwa, Peshawar, Mardan, Abbottabad, Mingor, Kohat, Bannu, Swabi, Dera Ismail Khan, Charsadda, Nowshera, Mansehra, Hyderabad, Sukkur, Larkana, Nawabshah, Nanak wara, Mirpur Khas, Jacobabad, Shikarpur, Khairpur, Pakistan.Experienced Based Diploma in Ac Technician ,Electronic , Mechanical , Plumbing , Auto Electrician , Efi Auto Electrician , Civil Surveyor , Quantity surveyor civil lab material testing , Best Institute in Rawalpindi islamabad Pakistan Lahore , Lowest fee course in pakistan , lowest fee professional practical training course in pakistan rawalpindi peshawar kashmir bagh lahore islamabad kahuta chakwal rahimyar khan gujarat gujarawala multan , attock Best institute in rawalpindi professional teacher and qualified staff.Dubai , Abu Dabi , Muscat , Oman , Doha , Qatar ,South Africa , Saudia Arabia , kawat , Behrain , Kotli Sattian , Murree , UK , UAE , Sharja,Civil Technology Courses
Diploma in Civil Surveyor
Diploma in Quantity Surveyor
Diploma in Civil Draftman
Diploma in Civil Lab Technician
Diploma in Civil Architecture
Building Management System (BMS) Course in peshawar
Quality Assurance Quality Control Course in rawalpindi
Hotel Management Course in lahore
Hotel Management Course in peshawar
Iosh MS
OSHA 30 USA Safety Course
IADC Rig Pass
Icertosh (International Certificate in Occupational Safety and Health)
Safety Officer
IRCA, ISO Certifications
Nebosh IGC Course in Rawalpindi
Nebosh IGC Course in islamabad
Nebosh IGC Course in peshawar
Nebosh IGC Course in karachi
Nebosh IGC Course in lahore
Nebosh IGC Course in pakistan
Basic IT Course (MS Office)
Computer Hardware Course
Computerized Accounting
CIT (Certificate in information Technology)
Web & Graphic Designing
Computer languages
Software Engineering
AutoCAD (Civil, Mechanical, Electrical)
3D Studio Max (Advanced)
Computer Networking
Web Development
Information Technology (PG-DIT)
Project Managment Professional (PMP)
Prima Vera (Project Management)
DIT (Diploma in information technology)
Revit 3D Cad Course
Microstation Cad Course
Shorthand Professional Course in Islamabad
Shorthand Professional Course in Rawalpindi
Shorthand Professional Course in Pakistan
IATA Air Ticketing & Reservation Course in Islamabad
IATA Air Ticketing & Reservation Course in Rawalpindi
IATA Air Ticketing & Reservation Course in Pakistan
Professional Cooking Course in Islamabad
Professional Cooking Course in Rawalpindi
Professional Cooking Course in Pakistan
EFI Auto Electrician Course in Rawalpindi
EFI Auto Electrician Course in Islamabad
EFI Auto Electrician Course in Pakistan
Civil 3D Course in Islamabad
Civil 3D Course in Rawalpindi
Civil 3D Course in Pakistan
GIS Geographic Information Systems Course in Islamabad
GIS Geographic Information Systems Course in Rawalpindi
GIS Geographic Information Systems Course in Pakistan.
Admission open for admission and queries call 03115193625,03354176949
INTERNATIONAL COLLEGE OF TECHNICAL EDUCATION Pakistan No.1 IT Training Institute,
For More Information Visit Our Website www.courses.com.pk, www.icollegete.com.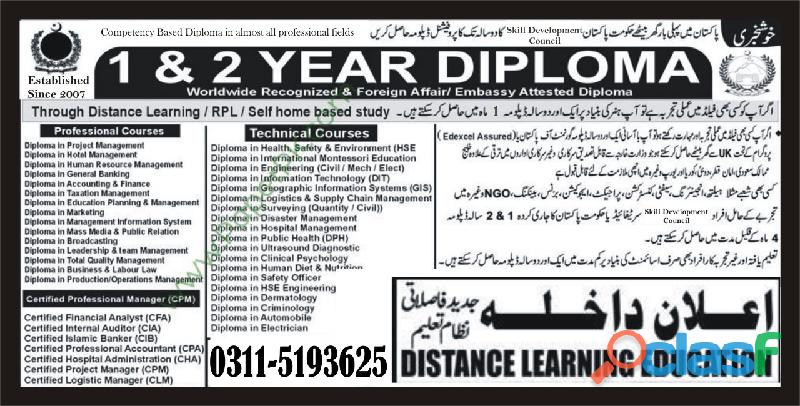 ⟩
Photo 1 / 6